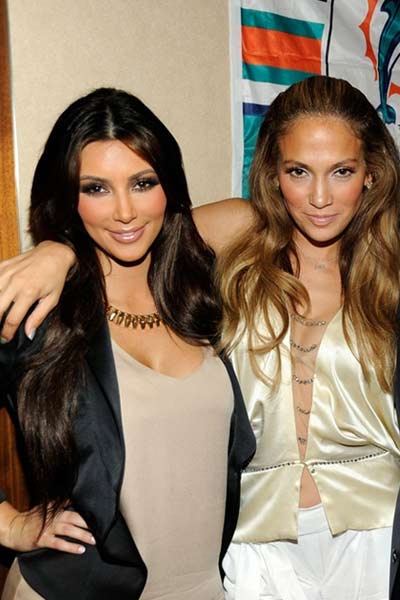 Kim Kardashian is a lot of things: reality TV star, girlfriend of Kanye West, former scandal star — but she's also a fashion forward woman. Kim and her sisters have managed to build an impressive fashion empire with their clothing and jewelry collections and with their super-successful DASH stores. Obviously if someone asked Kim K. about her favorite fashion looks, she'd likely say something Kardashian-designed, right? Sort of.
Kim Kardashian also admires other celebrities' styles, naming Jennifer Lopez as someone who represents the best of the best when it comes to hot clothing. Surprised? Probably not. JLo's flashy style is similar to Kim's look, and the two women do share a similar build. Kim K. told US Weekly,
"I would love to raid so many celebrities' closets, but I think Jennifer Lopez's would be amazing."
What woman wouldn't want to play around in JLo's closet, trying on all those over-the-top sexy outfits?
But Kim Kardashian also admires another fashion icon — the Queen of Pop music, Madonna. Kim K. says,
"I think Madonna's closet would be amazing, just all the pieces she's had for many years."
Madonna likely has given some of her most famous outfits to museums, at this point, but Kim would likely be thrilled to pick through the leftovers!
It's great that Kim has her own fashion idols for inspiration, but considering how well she's doing with her own fashion lines, she might want to stay in her own closet. Each time she steps out, whether it's at a Hollywood party or simply out to dinner with her new boyfriend, Kanye, she's a walking advertisement for her clothes!