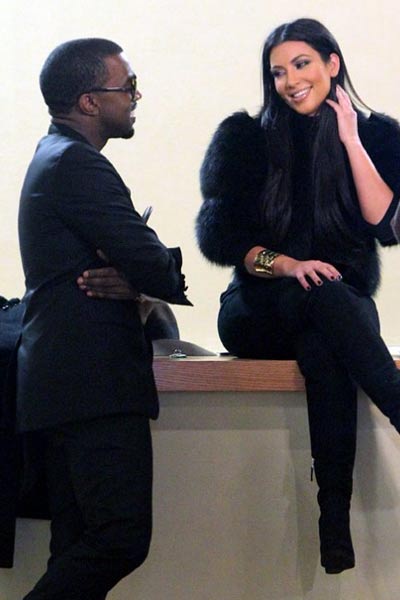 After weeks of speculation, a new report seems to confirm the rumor: Kim Kardashian has a new boyfriend, and it's Kanye West! Kim and Kanye have both said in the past that they are just close friends, but apparently now, they've taken their relationship to a new level. Get ready for a new power couple, people!
According to TMZ, Kim K and Kanye West actually just started dating. In fact, they had a "first date" on Wednesday night. What did they do? Jet off to some remote, tropical island for fun in the sun? Fly to Paris for a romantic dinner? No, Kanye and Kim did what so many other new couples do: They hit the movies. The new couple saw the film 'The Hunger Games' in New York City.
TMZ also reports that it's Kanye West who is pursuing Kim, noting that he'd been after her "for a while," and that he's released a new song about his feelings for her. And yes, those feelings were happening while she was with Kris Humphries. Did Kim K know Kanye liked her while she was dating and/or married to Kris? Could that be one reason for their split? Probably not, but it sure adds yet another layer of high drama to the situation.
Kanye West seems to actually confess his love for Kim Kardashian in the song "Theraflu." FYI: Here are the lyrics in question:
And I admit I fell in love with Kim
Around the same time she fell in love with him
Well that's cool baby girl, do your thing
Lucky I ain't had Jay drop him from the team.
That seems pretty straightforward, doesn't it? In that last line, it's possible Kanye's referring to the fact that Jay-Z is a part-owner of the New Jersey Nets, the team Kris Humphries played for while he was with Kim.
Wow. Just, wow. All of this is happening fast, and no doubt more stories about Kim K and Kanye West together will surface in coming days. Stay tuned!