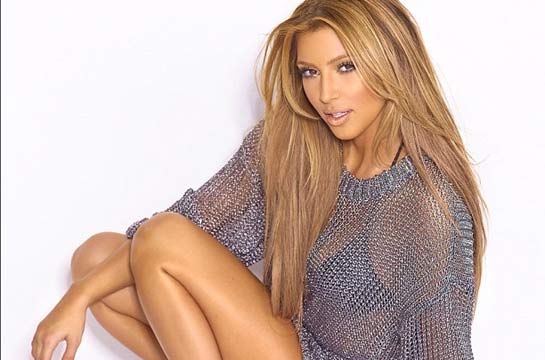 Every now and then, Kim Kardashian feels the need to remind all of us that she's smoking hot. Sure, she's an extremely wealthy businesswoman, a mega-star in the world of reality TV and now, Kanye West's girlfriend — but she's also a gorgeous woman. After weeks without any new Kim K. bikini photos, fans hit the jackpot when Kim started tweeting out extremely sexy photos late last week!
Fans who love Kim Kardashian would be totally crazy not to follow her on Twitter. When Kim is tweeting out pics wearing some sort of black bondage-style lingerie, people want to see. That's exactly what she did on Friday night, adding, "Gluten free is the way to be." If anyone wondered how Kim keeps her amazing figure, that's a good clue.
Here's the thing: That photo that Kim Kardashian tweeted out? It's an old shot. Well, not too old, but it's definitely not recent. In the picture, Kim has noticeably blonder hair — not the dark locks she's so famous for sporting. The last time Kim K's hair was dyed blonde was about two years ago. Not that anyone who saw the photo cares — the hair is probably the last thing that got noticed!
Kim sent out several additional sexy photos, though in the others, she's showing a lot less skin. In one particular photo, she bears a striking resemblance to Jennifer Lopez (especially with the blonde hair and the Louboutin shoes).
What prompted Kim Kardashian to tweet out all her racy pics in one evening? Was it boredom? Maybe she just wanted to sweetly remind her boyfriend Kanye that they need to get together again real soon (he's in NYC, Kim's in L.A.). Or maybe she's considering going blonde again!