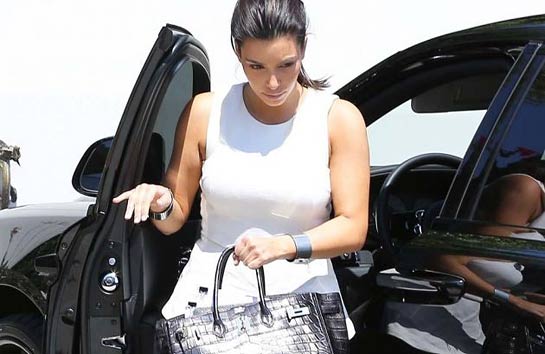 It seems that Kim Kardashian has once again angered the animal rights organization PETA. For a long time, Kim has made clear her love of wearing fur — so she was already on the group's list. What has she done this time? She's lugging around a fancy Birkin handbag made of crocodile skin.
Is anyone surprised that PETA (People for the Ethical Treatment of Animals) is going after Kim Kardashian yet again? Probably not. The organization does use some questionable tactics when it comes to getting its point across. Remember the now infamous flour-bombing of Kim K. on the red carpet back in March? The woman responsible for dousing Kim with the flour, Christina Cho, was an admitted PETA activist.
Yes, the battle between Kim Kardashian and PETA continues, and it likely will for some time. Kim shows no sign of backing down — she was recently seen carrying her crocodile-skin Birkin bag (which costs, by the way, a whopping $50,000). No doubt she'll soon be strutting around in her python boots, too.
Is Kim right to wear so many high-end animal skin fashion items and accessories? PETA spokesperson Wendy Wegner sure doesn't think so, telling Radar Online, "For every alligator or crocodile-skin accessory, an animal was likely beaten but still conscious and able to feel excruciating pain as his or her skin was peeled off."
Yikes. It's really clear that Kim Kardashian doesn't care what PETA thinks, but how does everyone else feel about the matter? Should Kim stop wearing animal skins and go totally cruelty-free?