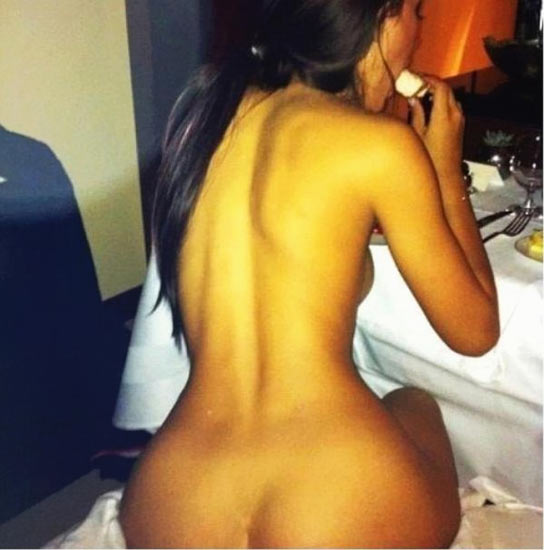 Sorry to disappoint, but anyone who thought that Kim Kardashian's boyfriend, Kanye West, actually sent out a naked photo of her on Twitter this week is quite wrong. It's hard to blame anyone who saw a the tweets of the nude woman early on Wednesday morning for thinking it might be Kim. It's not. It's simply a hoax!
Kanye West never sent the photo out via Twitter, and the woman naked in the photo is not Kim Kardashian — it's a porn star named Amia Miley. The similarities are hard to miss: Long, dark hair, gorgeous olive skin and yes, a very large posterior…but Amia is not Kim. Kanye's spokesperson says he didn't have a thing to do with the photo.
Did anyone really think Kimye would need to send out a nude pic to get more media attention? They get plenty already, with their clothes on. Sure, Kim has a sex tape, but she really doesn't have any need for that kind of…exposure anymore.
A spokesperson for Kanye West gave a statement to TMZ, clearing everything up and saying that the photo making the rounds on Twitter was NOT sent by Kanye and is NOT of Kim Kardashian, adding, "This phantom tweet never occurred on his account. This is obviously the desperate, sad act of someone seeking to gain media exposure by exploiting Kanye's notoriety."
So there you go, all cleared up — it was just another Twitter hoax. Fans: Don't expect Kanye to ever tweet out any nude photos of Kimmy!