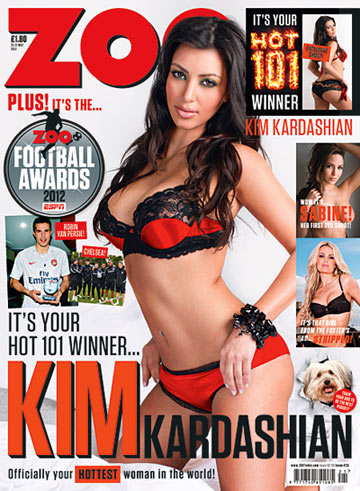 Kim Kardashian is no stranger to any list of beautiful women in the world, but is she the most beautiful woman of all? One magazine certainly thinks so! Zoo magazine, a UK publication, recently named Kim K. the "Hottest Woman in the World." And, in case anyone's forgotten, Kim bared a lot of skin for the magazine's cover, showing off her ridiculous curves in some racy lingerie.
Zoo magazine regularly features gorgeous women on it's cover and on it's pages, but Kim Kardashian's cover shot pretty much beats all. Kim poses seductively in her red-and-black, lacy underthings — offering up that sultry look that's made her extremely famous. Kim won the "Hottest Woman in the World" honor by votes from readers, too. There's no doubt about the fact that Kim K. is hot, but whether she's truly THE hottest is certainly up for discussion. If not Kim, when who? Sofia Vergara, perhaps? Angelina Jolie? How about Kim's sisters, Khloe and/or Kourtney Kardashian?
Kim K. is still globe-trotting this week, so she's had little time to celebrate her new "title." She's now at the Cannes Film Festival, arriving in France on Tuesday. She arrived solo, so that's got some wondering what's going on. Where is Kanye West? The two were virtually inseparable in London last week and over the weekend, and Kanye has a short film (Cruel Summer) debuting at the Festival.
Reports say Kanye is still in London, where he's performing as part of the 'Watch the Throne' tour with Jay-Z. He'll probably join Kim Kardashian soon enough. If he's seen his girlfriend's sexy new Zoo magazine cover, he'll probably race to France as quickly as he possibly…Cannes!