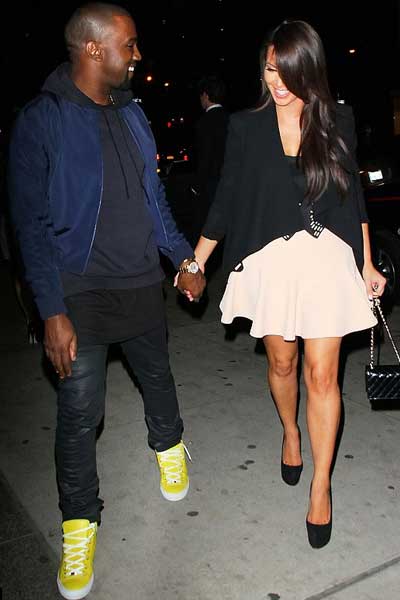 The Kim Kardashian and Kanye West Power Couple Craziness continues. It seems that each day, these two are photographed together going somewhere. Whether it's shopping in New York City, dinner with her family or just hanging out at Kanye's hotel, the press has not missed one nano second of Kimye time. Why? Because these two are a true power couple. Their wealth (staggering) and level of fame (stratospheric) make them massive stars in their own right. Put them together, though? Then they become something even bigger: a power couple.
This week, Kim Kardashian stepped out with Kanye West for another New York City stroll (followed by dozens of paparazzi, so it's safe to say this wasn't an intimate, romantic kind of jaunt). Kim wore one of the most gorgeous outfits she's ever worn: a stunningly short, cream-colored, flirty skirt, a black blazer and extremely high heels. The look works really well for her, as she definitely has the killer legs to pull off Louboutins and short skirts. Kim paired the outfit with the ultimate accessory: a small, black, quilted Chanel handbag. Perfection!
Kanye West needs a little work in the wardrobe department, if he wants to keep up with this Kardashian. West wore bright yellow sneakers, a hoodie and black leather pants — not exactly an outfit to match his super-glamorous girlfriend. Kim? When you're done putting your own outfit together, why not give Kanye a few pointers, okay? All power couples, Kimye included, should coordinate their looks. Hoodies don't pair well with Chanel.
Kim Kardashian's family, including sister Khloe, are saying that they don't think Kim K and Kanye are really all that serious yet, but given that they're together seemingly all the time now, it sure looks like things are heating up, fast!