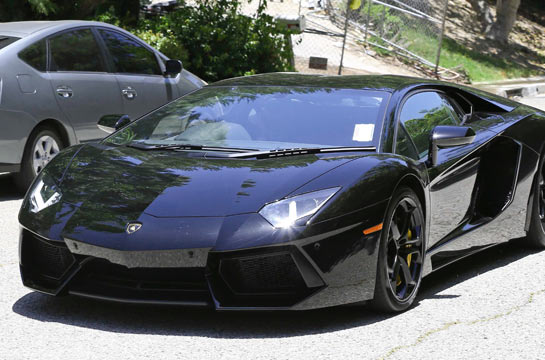 Kim Kardashian is a wealthy woman. She's also extremely generous with her wealth, giving friends and family lavish gifts for special occasions. But Kim's gone completely over the top with the gift she gave to her boyfriend, Kanye West, for his birthday. What do you get the music mogul who has everything? How about a $750,000 car!
Yes, Kimmy went really big with her gifting to Kanye, giving him a beautiful new Lamborghini sports car. Kanye West, who turned 35 years old last week, certainly raked it in on his big day, didn't he? Well, that's what happens when you are super rich: You can totally afford to buy Lamborghini's. In Kim Kardashian's case, she opted for an extremely rare, sleek-looking, black Lamborghini Aventador LP 700-4 for Kanye — and it's gorgeous.
Kim and Kanye have only been dating for a few months, so if this relationship goes the distance, there's no telling what she'll get him for his birthday next year! In the meantime, Kim joined Kanye in Ireland, where he performed on the "Watch the Throne" tour in Dublin over the weekend. Sadly, Kanye will have to wait to drive his fancy new car until he gets back from Europe. Boo!
Obviously Kim Kardashian is nuts about Kanye — because she was married to Kris Humphries and never gave him anything as lavish as a rare Lamborghini. Good thing she didn't, or that would be yet another point of contention in their nasty divorce!