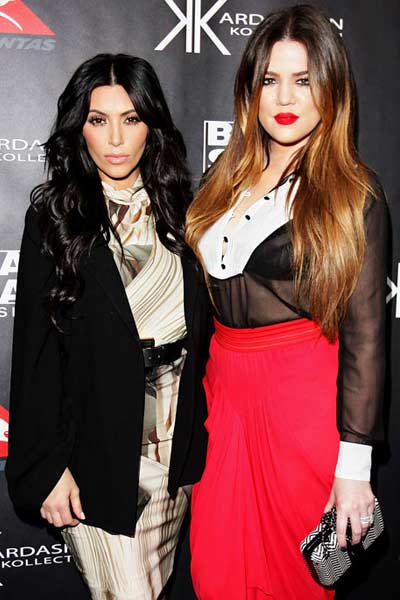 After the relationship disaster that was Kris Humphries (and, for that matter, Ray-J, Reggie Bush, etc.), will Kim Kardashian's super-close family accept her decision to date Kanye West? Given that Kim and her family are definitely tight, it seems pretty important that the Kardashians are on board with this budding love.
One of Kim Kardashian's sisters, Khloe, is speaking out now about Kim and Kanye, and it's all good news. In an interview with Ellen DeGeneres, Khloe Kardashian sounded off about the couple now dubbed "Kimye," saying she thinks the name is adorable — but she thinks Kim and Kanye together are even cuter! Khloe says it's great that Kim K is dating Kanye, adding, "I think they're cute together."
How much does it matter that Kim Kardashian has sister Khloe's blessing? A lot. Khloe made no secret that she didn't like Kris Humphries with Kim, and we all know how that turned out. So far, no word on how Kim's mom, Kris Jenner, feels about her daughter dating Kanye, but it's highly likely she'll weigh in soon enough, too.
What's next for Kim Kardashian and Kanye? Hopefully we'll see them together in London, when he tours there with Jay-Z next month. Or perhaps we'll get some more Kim K bikini photos, if they vacation together on some tropical island! Who knows, Kim might finally have her match.