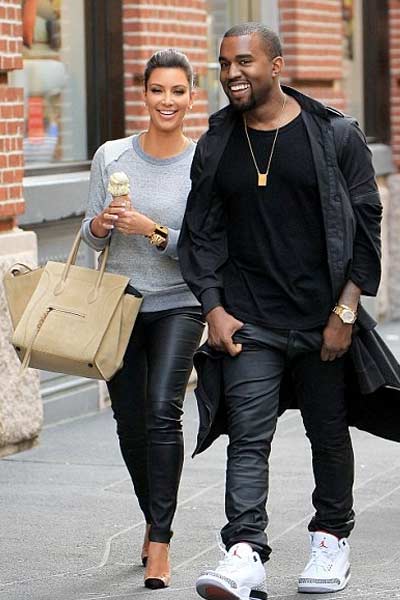 Things between Kim Kardashian and Kanye West might be getting a tad more serious. Why? Because Kim K. brought her new boyfriend to meet her family over the weekend! Yes, it's true: Kanye hit up a Kardashian family gathering with Kim on Saturday. Apparently, everything went really well. Anyone surprised by that? Probably not. Kim's family already knew Kanye well before he hooked up with her.
Reports say Kim Kardashian brought Kanye West together with her mom, Kris Jenner, and her stepdad, Bruce Jenner, during an outing in New York City. Of course, this was after Kanye and Kim hit up several shops in NYC together (these two never miss a good photo op), and of course the paparazzi documented their every move. They even stopped for ice cream!
Once everyone got together, things between Kim's family and Kanye went great. TMZ quotes a source as saying that the meeting "went great" and that Kim Kardashian's family thinks that she and Kanye "make the perfect couple." Considering the mess that was Kim's relationship and (short) marriage to Kris Humphries, how could they NOT be happy she's seeing someone else?
What does the future hold for these two? Probably a lot, if they stay together. Both are super successful and they seem to really like each other. Maybe Kanye can help Kim out with her plans to become the mayor of Glendale, California? Yeah, maybe not.