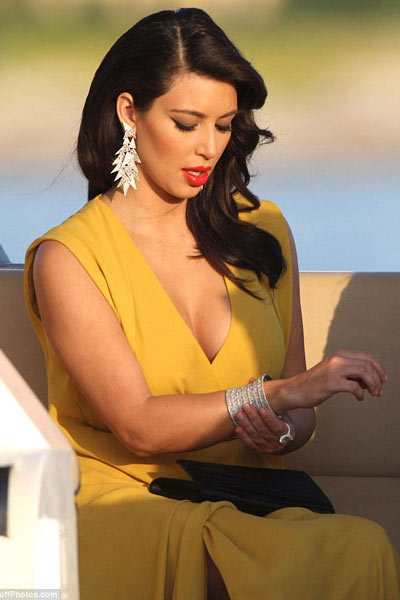 Kim Kardashian and Kanye West are a hot item, no doubt. They're everywhere, it seems, including the 65th Annual Cannes Film Festival. And, just because they can, they're giving the paparazzi plenty of great photo shots. Kim and Kanye lit up the red carpet at Cannes on Wednesday night, and it might be one of Kim K.'s best looks yet!
At the premiere of Kanye West's film Cruel Summer, Kim K. sizzled in a short, beaded, white dress with gold detailing. She actually matched her man, too: Kanye wore a white blazer, white shirt and white jeans. In short, they looked every bit the color coordinated power couple of the moment as they posed for photos together. There's no denying that since she's been with Kanye, Kim's stepped up her glamor game in a major way. Her looks during her time in Europe, specifically, are classic, with less emphasis on sex and far more emphasis on class. Good for her!
At the after party, Kim Kardashian and Kanye were spotted "happily nuzzling" together. Anyone who speculated that Kimye was just for publicity might be seriously rethinking that theory. These two are actually beaming!
Speaking of beaming, Kim K. was still smiling from ear to ear as she glammed it up "old Hollywood" style at the glitzy amfAR Cinema Against AIDS gala in Cannes on Thursday. Kim sizzled in a jaw-droppingly gorgeous yellow evening gown. And yes, the dress showed plenty of leg and cleavage, but without being tacky. Kim's choice of bright red lipstick and side swept, curled hair complemented the look immensely.
Bravo to Kim Kardashian for having a banner fashion week in London and in France! Whether it's Kanye love or a new stylist, she needs to keep this up.