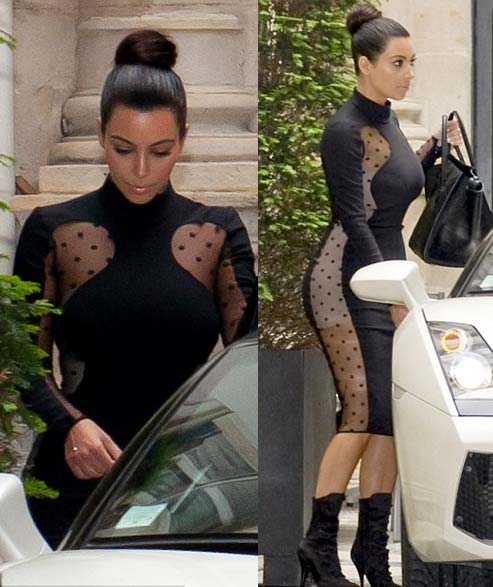 Kim Kardashian stepped out in a rather revealing Stella McCartney dress recently in Paris – and while the dress itself set plenty of tongues wagging, it's what was (or wasn't) underneath that really got the attention. The tight black dress, which Kim paired with some epic black boots and a sleek updo, was quite flattering. But did Kimmy try to contain her famously curvy body with nude-colored shapewear?
Looking at photos of the dress in question, it certainly looks like Kim Kardashian is wearing shapewear (aka Spanx, specifically) under the McCartney dress. The dress has sheer paneling from her shoulder to her knees, and in-between, it does appear that she's wearing Spanx in her thigh area.
Kim K. was quick to set the rumor straight: No, she is absolutely not wearing shapewear of any kind under that particular dress, though Kim has worn Spanx before. But in this case, what everyone thought was a huge fashion misstep actually wasn't! Kim says, "I wore this gorgeous polka dot Stella McCartney dress out yesterday and I've seen some publications saying I'm flashing my Spanx or control underwear underneath the dress…but that's exactly how I bought it with those nude panels inside."
So that's that: No Spanx for Kim Kardashian, at least not with this super gorgeous dress. Every girl needs a little control now and then, but in this case, with this dress, Kim didn't!