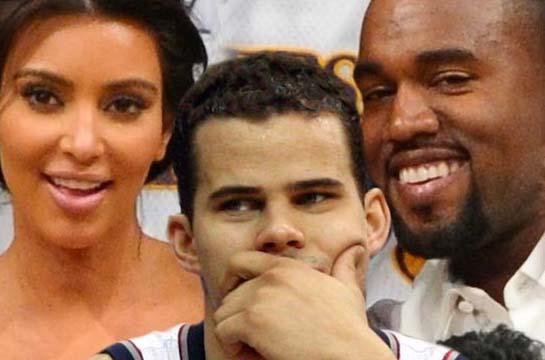 The divorce drama continues for Kim Kardashian. Now, her ex, Kris Humphries, is stating that he believes Kim cheated on him with none other than her current boyfriend, Kanye West. How did Kris know for sure? He claims it was obvious when Kanye (a close Kardashian family friend) wasn't on the guest list for their million dollar wedding last year.
Kris Humphries supposedly offered his Kim and Kanye cheating theory to his most recent ex, Myla Sinanaj. And yes, Sinanaj is the same girl that he told about Kim's Ray J sex tape supposedly being set up by Kim's mom, Kris Jenner. Obviously there's no solid proof that Kim and Kanye were, in fact, fooling around while she was engaged to Kris. Certainly the Kardashians will deny that!
This isn't the first time that Kim Kardashian was accused of having an affair with Kanye West. His ex-girlfriend, Amber Rose (who is now engaged to Wiz Khalifa), also leveled cheating accusations involving Kimye months ago. Amber totally blames Kim K. for splitting up her relationship with Kanye. She even went so far as to call her a "homewrecker." Here's the thing: Kim was dating Reggie Bush when Amber says she was fooling around with Kanye.
Is Kim a perpetual cheater? Hopefully not, and certainly anything Kris Humphries says about her during this nasty divorce should be taken with a (big) grain of salt. However, this isn't the first cheating allegation involving Kanye, now is it? And where there's smoke, there is usually a Kardashian.