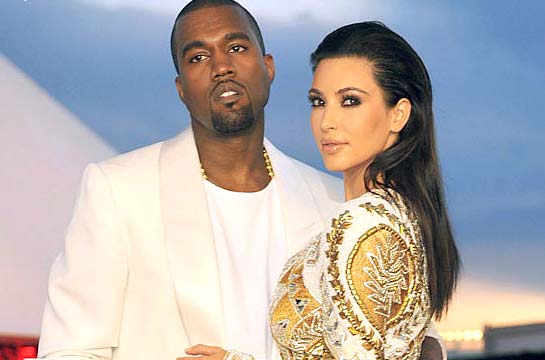 Kim Kardashian might want to wait a while before she starts dropping the marriage hints to Kanye West. Even if she does want to marry him, as recent reports suggest, it's probably a great idea to wait until she's at least divorced from Kris Humphries first!
Kim and Kanye are inseparable these days, and yes, their friendship has indeed blossomed into something much more. But the very idea that these two could, or would, tie the knot anytime soon is absurd — or is it? If Kimye is a PR stunt (and some believe the relationship is merely for publicity), then a huge wedding would be just the ticket. If it's the real thing, Kanye needs to cool his heels for a bit.
A new report claims that Kanye West wants a massive, glitzy wedding to Kim Kardashian, complete with all-out TV coverage. Sound familiar? The execs at E! are probably drooling over the idea. Apparently, a source tells Hollywood Life that Kanye West would gladly throw an extravagant ceremony "…just to prove his wedding to Kim would get more way more viewers than Prince William's wedding."
Kim Kardashian did (sort of) hint during her recent Oprah Winfrey interview that she might want to marry her new man. There's no shame in that — Kim seems the romantic type. But for now, put things on the back burner okay? No one's going to take these two seriously if they get engaged and start planning a $20 million wedding ceremony before the bride-to-be is even officially single again. Sheesh.