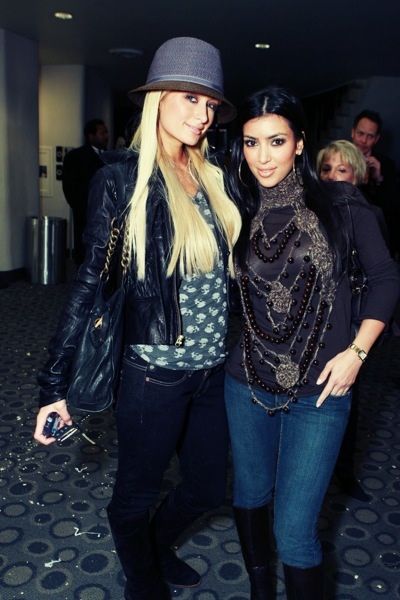 The socialite war is over, at least, if you believe the tabloids. Kim Kardashian and her former BFF-turned-enemy Paris Hilton are friends again. Or, at the very least, they're not hating on each other anymore. Kim K. is certainly having an amazing year, even with the nasty divorce from Kris Humphries. She's got a massive new reality TV deal for Keeping Up With the Kardashians, a power-boyfriend in Kanye West, and now, she might very well have her friend Paris Hilton back!
Reports say that Kim Kardashian and Paris Hilton ran into each other at the swanky amFar Gala during the Cannes International Film Festival late last week. No claws came out. In fact, just the opposite happened: Kim and Paris started chatting. Can you imagine the tension in the room when everyone saw these two side-by-side?
What did Paris and Kim K. talk about on that warm night in Antibes? That's not known. A source tells the New York Post's Page Six that Kim and Paris "hugged, smiled and chatted for a while," adding that the two socialites "…really have no problem with each other; it has been a long time."
Indeed, it has been a long time since the days when Kim Kardashian ran around as part of Paris Hilton's entourage. As pretty much everyone knows now, Kim wound up becoming quite famous in her own right, thanks to that sex tape with Ray J. Now, Kim K. is a household name, and her reality show is far more popular than Paris' show ever was.
Despite some reports that Paris Hilton was feuding with Kim Kardashian (jealousy, perhaps?), that's apparently not the case anymore. What's next for these two? Will Paris wind up on Keeping Up With the Kardashians now? That certainly would be interesting!