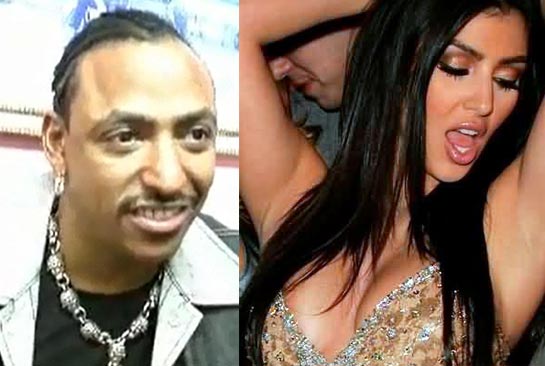 Just when you thought all the Kardashian drama this week would be focused on Kim Kardashians' nasty divorce from Kris Humphries, guess what? It's not! A well-known adult film actor has come forth, claiming that he had a threesome with Kim and another female porn star more than a decade ago.
And we're shocked, why, exactly? Kim Kardashian was just 20 at the time, and, despite being married at the time, probably more than a little wild. According to RadarOnline, porn star Julian St. Jox says the tryst happened a swingers party back in 2001 at the Wyndham Hotel in Los Angeles. Did Kim hit the party with her then-husband, Damon Thomas? Possibly. St. Jox says Kim was with a "black male." St. Jox claims his date, porn actress Emily Ann, propositioned Kim K. and then things progressed to a private room and a good bit of adult activities.
Forget the Ray J sex tape: Where's this threesome Kim Kardashian video?! That's highly unlikely, given that Kim wasn't really famous at that point. For the record, Kim Kardashian's rep says this threesome story never happened, but you never know, right? Kim does have a history of being a bit freaky in the bedroom, so the story really isn't all that surprising.