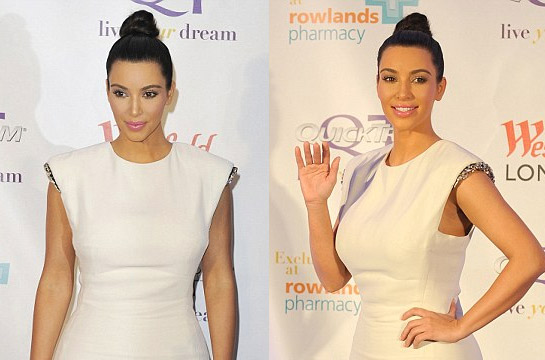 Nothing, it seems, can stop the Kim Kardashian publicity train which is currently rolling across the UK. Kim is still in London, where she's busy promoting the new season of the show that made her famous (sex tape aside): 'Keeping Up With the Kardashians.' She's also super busy working on publicity for her fragrance (she's attending the FIFI UK Fragrance Awards). Oh, and Kim is also drumming up some extra attention for her boyfriend, Kanye West (anywhere Kim goes, attention follows). That's what you call celebrity multitasking!
The ever-present paparazzi capture Kim K's every move as she struts through the streets of Londontown, looking great (of course). In recent days, Kim Kardashian's wardrobe has undergone a major transformation: Her normally sexy and revealing outfits are gone, replaced by much more conservative attire. The British press is liking it, too, calling Kim "demure." Is Kim trying to endear herself to the Queen with this new look?
Of course, even with a lower hemline, Kim Kardashian's clothes always hug her famous curves well. Kim's dress of choice, a white, high-necked number that she paired with chunky high heels, was gorgeous. Kim wore the outfit while attending a "meet and greet" with fans at a party for QuickTrim diet pills, held at London's posh St Pancras Renaissance hotel over the weekend. The event was one of two QuickTrim promotional appearances for Kim in recent days — but is this a good idea?
Here's the lowdown: Kim Kardashian and her sisters promote the QuickTrim weight loss system, but some health experts have claimed that the so-called "miracle" system doesn't work — and that it might be "dangerous" as well. Despite the fact that she and her sister Khloe Kardashian are defendants in a class action lawsuit filed over QuickTrim earlier this year, Kim plugged the product enthusiastically anyway at Saturday's event.
All of this begs the question (again): Is it a good idea for Kim Kardashian to keep touting QuickTrim, given the lawsuit?