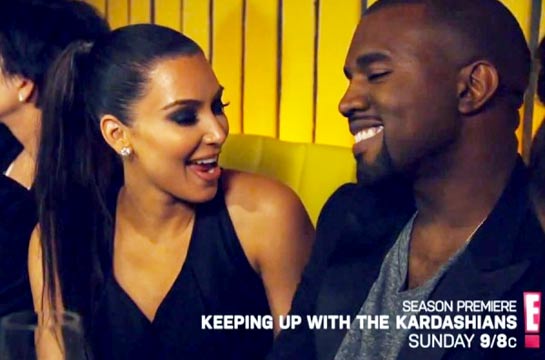 The first trailer for 'Keeping Up With the Kardashians' dropped Thursday, and guess what? Kim and Kanye are totally in it together. So much for the idea that Kimye wouldn't be a major part of the show. Maybe they're not – maybe this is just a hype thing to get everyone excited for more Kardashian Krazy adventures?
Maybe not. It sure does look like Kim and Kanye will be featured the same way she was with Reggie Bush and then, with He-Who-Shall-Not-Be-Named (aka Kris Humphries). Whatever the case, the 'Keeping Up With the Kardashians' trailer features Khloe Kardashian calling Kanye and Kim "two peas in a pod." Everybody together now: Awwwww.
Oh, and the trailer? It also features Kim Kardashian wearing a lovely, skimpy bikini and showing off her…assets. The new season of 'Keeping Up With the Kardashians' starts on Sunday night. Kanye or no Kanye, we know we'll get to see tons of Kim K. Fans, it's officially time to get excited!
Kim Kardashian's hopped the pond, so she's over in London (with Kanye, of course) and doing some serious promotion of her own products. She took time to attend a fancy dinner at the swanky Zuma restaurant — and she looked incredible in a full-length navy gown that accentuated her curves beautifully. Kim is nothing if not always paparazzi-ready.
Apparently, Kim and Kanye didn't stay long at the dinner. Jay-Z was the host, and he was hoping his friends would stick around and "mingle." That did not happen. It only took a quick whisper to Kanye and they booked it out of the restaurant. Needing some alone time?
Stay tuned. With sex tape star in London now, there's sure to be plenty of great stories coming!