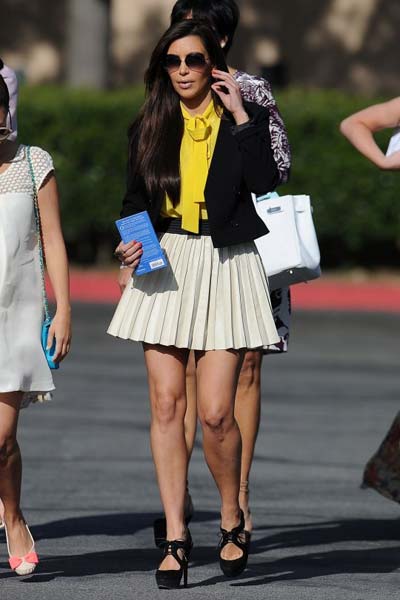 Kim Kardashian's now dating one of the biggest music moguls on the planet — her friendship with Kanye West is now apparently much more (will we get a new Kim Kardashian sex tape..?) After several days of heavy media attention focusing on their budding relationship, what does Kim do? She heads to church. Of course.
Kim K attended Easter services with her whole family, including pregnant sister Kourtney Kardashian (who looked super cute), mom Kris Jenner and sisters Kendall and Kylie Jenner. Everyone looked spiffy for church, but Kim chose a rather racy, short skirt with sky-high black heels. Is this normal church attire in California? Maybe so. It just seems a little bit too sexy to wear in a house of God, don't you think? Kim, by the way, regularly attends church services with Kris Jenner — especially in recent weeks.
And no, in case anyone was wondering, Kanye West was not with Kim Kardashian and her family at church on Sunday.
The Easter celebrations didn't stop with morning church services, either. Kim K helped her little nephew, Mason, hunt for Easter eggs. Say what you want about the Kardashians, but this family is tight. They always get together for major holidays, whether it's Christmas, Thanksgiving or Easter. Good for them!