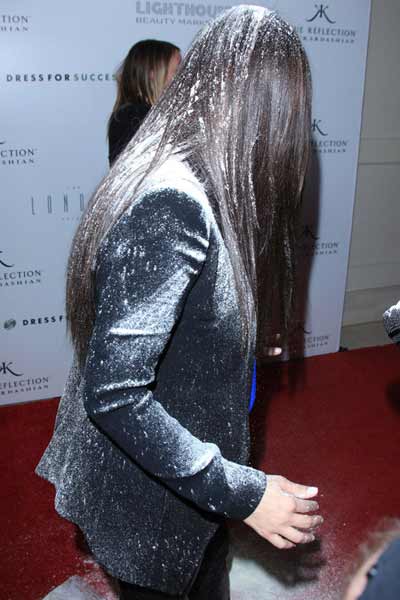 Kim Kardashian is definitely not one to shy away from any red carpet, but how about a red and white one? On Thursday night, sex tape star was attacked by a woman wielding a bag of flour! A shocked Kim was completely covered in white powder. Ever the professional, Kim took everything in stride, though. She quickly scooted out of the event, got cleaned up and, within minutes, was right back out there!
Kim Kardashian was on the red carpet at the London Hotel in West Hollywood when the incident happened. Somehow, a woman got past Kim's (heavy) security and managed to throw an entire bag of cooking flour on her. The woman, who hasn't been identified, was whisked away from security on the scene and later arrested. Why did she do it? That's unclear — but if she wanted to get Kim K's attention, she definitely got it.
Some are speculating that Kim Kardashian was flour-bombed by someone affiliated with the group PETA (People for the Ethical Treatment of Animals). TMZ reports that the suspect yelled "Fur Hag!" at Kim just before she threw the flour on her. A a spokesperson for PETA says while they're "supportive" of the attacker, the group wasn't responsible for the incident.
Either way, the key thing here is that Kim handled herself very well. She got cleaned up, got back out there and even managed to joke about everything later, saying she'd even asked her makeup person for "more powder" before she hit the red carpet. This is probably NOT what she meant.