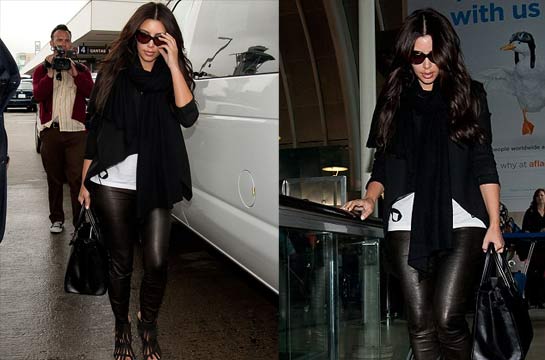 Poor Kim Kardashian: The reality TV star looked postively miserable as she arrived in Los Angeles after leaving New York City (and boyfriend Kanye West) behind yesterday. Kim's spent a week in NYC with her new man, Kanye West, and the two seemed pretty much inseparable for much of that time. Before she left, Kim enjoyed a nice, drama-free dinner with her sisters, Kourtney and Khloe, and their significant others, Scott Disick and Lamar Odom. Now, it seems, it's back to reality.
Kim K's home base is California, no matter how much she probably wishes it was New York right now. Are Kim and Kanye getting serious? She must be smitten, judging from the photos taken by paparazzi as she arrived home to Los Angeles. Kim Kardashian almost always manages to at least crack a small smile when photographed, but she looked so depressed and down as she got ready to leave. She looked beautiful, wearing those sexy black leather pants again, but even high fashion and a Hermes bag can't help when you're missing someone.
Maybe this whole Kim and Kanye thing IS more than just a publicity stunt. Maybe Kim Kardashian genuinely loves Kanye, or at least likes him enough to miss him terribly when he's not around.
Once Kim got back, she did what any self-respecting Kardashian girl would do: She headed straight for a Beverly Hills salon for a little pampering (and pouting). Hopefully having her nails done cheered her up a bit. And come on, let's get real here: Kim will probably be seeing Kanye again really soon, right? It's not like these two can't afford to fly cross-country on a whim anytime they can!