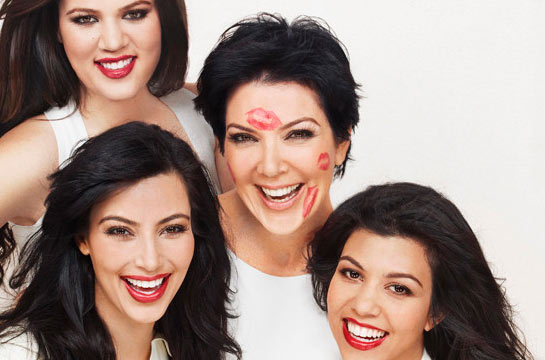 Kim Kardashian is tight with her family. These people have helped her through a slew of problems, including the embarrassment over a leaked sex tape and now, a nasty pending divorce battle with her ex, Kris Humphries. And through it all, Kim's mom, Kris Jenner, has been her rock. It seems only fitting, then, that Kim K chose to honor Kris on Mother's Day.
Kim posted a super sweet personal message to her mother on her official blog, telling her that she loves her unconditionally and calling Kris Jenner her "best friend." She also asks the question, "Where would I be without you?" That's very true: As Kim Kardashian's manager, Kris has been instrumental in helping her land marketing and promotional gigs. She keeps the Kardashian machine running smoothly, and smoothes over any ruffled feathers (and given the Kardashian women's strong personalities, feathers get ruffled, and often).
Kim didn't just honor her mom on Mother's Day. She also posted a beautiful message to her big sister, Kourtney Kardashian. Kourtney is a mom to little Mason Disick and she's also expecting another baby. On the blog, Kim wrote:
"I am so proud to call you my sister and my friend. This next next year we will have another little angel with us, and I can't wait to meet her. You are such an amazing mom to Mason and I know you'll be the best mom in the world to your new daughter."
Beautiful, sweet, heartfelt Mother's Day wishes, aren't they? Kim Kardashian spent the morning with Kris Jenner and her family, before heading off to a Vogue Italia photo shoot. She had a busy weekend, too, as her boyfriend, Kanye West, was in town. The pair took in a Los Angeles Lakers game together. Who knows? Maybe Kim and Kanye will decide to settle down together and have children — so Kim can enjoy a special Mother's Day of her own!