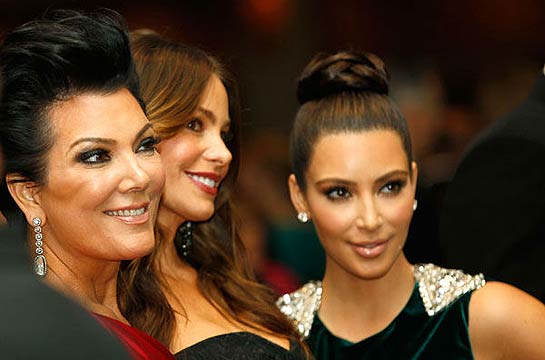 Kim Kardashian's everyday life always seems so exciting, doesn't it? She probably does normal things too, like picking up dry cleaning, watching movies at home in pajamas and the like, but we never hear about it. No, it's the truly exciting, celebrity-worthy moments that make the headlines, and this past weekend, Kim did it again, as she attended the 98th Annual White House Correspondents' Association Dinner in Washington DC. Her life is never boring, is it?
Kim K kept everyone in the loop about the big event via her Twitter account, tweeting out photos and info as she enjoyed her evening. And when the Dinner's emcee, Jimmy Kimmel, made her a punchline of one of his jokes, she laughed it off. Kimmel, by the way, told everyone in the audience,
"If you're looking for the biggest threat to America right now… She's right there. Her name is Kim Kardashian."
Kim Kardashian wasn't the only mega-celebrity in attendance on Saturday night, but she probably got the most attention. Kim dazzled in a stunningly beautiful, emerald green Lorraine Schwartz evening gown (accented with equally dazzling jewels). She tweeted several photos of other A-list celebrities at the dinner, including Sofia Vergara, Martha Stewart and of course, her mom, Kris Jenner. It's quite clear that Kim was enjoying herself, and she also snapped a couple of photos of President Barack Obama and First Lady Michelle Obama for good measure. Yes, this really was one of Kim K's more exciting, ultra-glamorous evenings!
Anyone else wonder if Kim Kardashian took the opportunity to talk to some Washington DC politicians about her possible run for mayor of Glendale, California? It probably couldn't hurt to get a few pointers before she tries to win a public office!