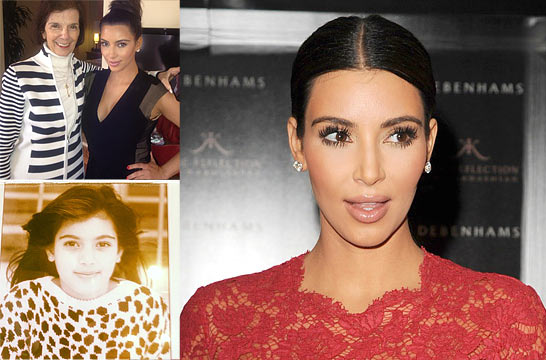 Kim Kardashian is one of those people who is almost always in motion. She's either tooling around L.A. wheeling and dealing (and shooting her reality show), or she's on the road, doing some sort of promotion for her business ventures. Is it any surprise at all that Kim was in Las Vegas earlier this week? Probably not. And guess what: She's with her man Kanye West, too!
Kim and Kanye treated fans to a marathon autograph session on Sunday at the Hard Rock Hotel in Vegas. The New York Daily News reports that Kim K. was especially gracious with fans, taking photos and signing virtually anything anyone handed her. Obviously the Kris Humphries divorce debacle hasn't dulled her fan base!
After enjoying some time with Kanye West in Las Vegas, it was family time for Kim, as she loaded up for a road trip to San Diego. Why? To visit her grandmother, of course! Kim seemed especially excited about the visit and she even tweeted a sweet photo with "grandma MJ" for her Twitter followers to enjoy, and another of her as a little girl, looking fresh-faced and beautiful. For fans who are used to Kim tweeting racy photos of herself, this had to be a shock!
An otherwise delightful Kardashian family outing almost turned tragic, when Kim was almost involved in a massive car accident. Us Weekly quotes a source as saying that it happened on the grandma MJ road trip, and that Kim avoided a "10 car crash." Yikes! It's definitely been an exciting week for Kim…