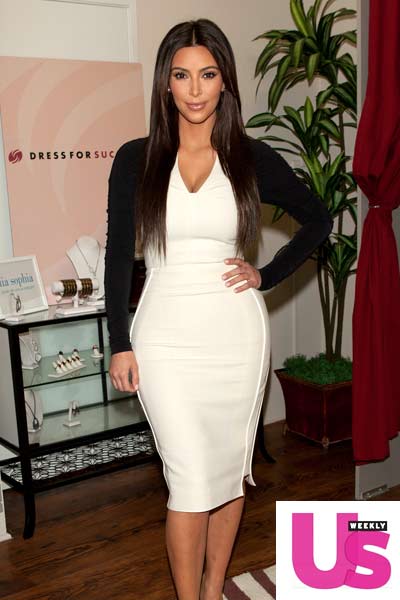 Kim Kadardashian is definitely known for her curvy figure, but sex tape and TV star is trying hard to drop some weight and whip those curves into tip-top shape! Kim K told US Weekly magazine that she's on a super-strict new weight loss regimen, and it sounds pretty intense.
Kim revealed that she's already lost six pounds in a week, so that's impressive (and fast, don't you think?). What's she doing? Everything. She says she's doing twice-daily workouts, complete with cardio training in the mornings (treadmill running) and then some sort of strength training later in the day (think weights and Pilates). She's in training with her brother, Rob Kardashian, so hopefully these two can keep each other motivated.
This certainly seems like a healthy way to get into shape, so it'll be interesting to see how Kim Kardashian looks after several more weeks/months of work. In addition to the exercise, Kim also says she's stopped consuming anything with sugar, gluten and dairy in it. So yeah, this is a tough regimen that requires complete devotion.
Is the stress of the Kris Humphries divorce spurring Kim on in her efforts to improve her figure? Possibly so. Kim tells US Weekly that she's "on a mission," adding, "I figure, I'm single. Now is the best time to get in shape." Good point, though married or single, it's always great to get healthy. The workouts can also reduce stress — so if Kim's feeling stressed out from the divorce drama, the exercise could be just what she needs!