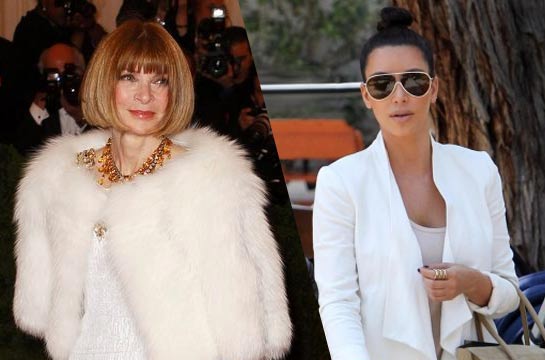 Poor Kim Kardashian: She just can't get any respect! What's a reality star to do? Monday's Met Gala was one of the biggest, star-studded events in the industry, with tons of A-list celebrities walking the red carpet in gowns that rivaled any seen during Hollywood's awards season. Yes, the Met Gala is THE event to see and be seen, and the (always fashionable) Kim Kardashian wasn't there? What gives?
What gives, is that somebody with a lot of power most likely left her off the guest list — on purpose. And that somebody might be the host of the event, Vogue's Anna Wintour. Uh oh, if Anna doesn't like you, you're going to get blacklisted from these kinds of major events. Kim Kardashian's boyfriend, Kanye West, did attend the Met Gala (without Kim on his arm) and that got tongues wagging. Was Kim being shunned?
It sure looks that way. Kim K. said she was super-busy in California, supporting and promoting her Sears clothing line and attending family photo shoots. She had no time to attend such a mega-event. Yeah, right. Anyone else not believing that story either?
According to Radar Online, Anna Wintour "hates Kim" and personally made sure that Ms. Kardashian was not invited to the Met Gala. Ouch! Some celebrities are able to secure an invitation by purchasing a $25,000 ticket, but even that wouldn't be enough. Radar Online quotes a source as saying, "Anna Wintour does NOT want her there!" And what Anna Wintour, one of the most powerful women in the fashion industry, wants, she gets. And that's a Kim Kardashian-free Met Gala.
Poor Kim. That's pretty mean and rather sad. She's as much of a "celebrity" as many of the other young women walking the red carpet on Monday night.