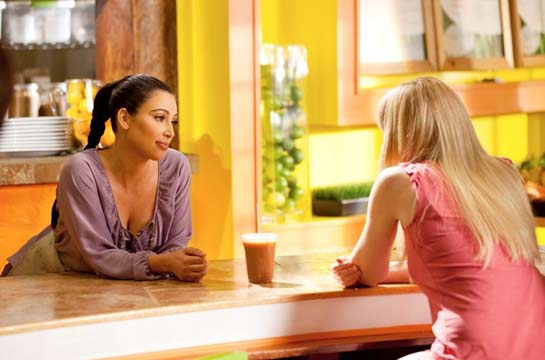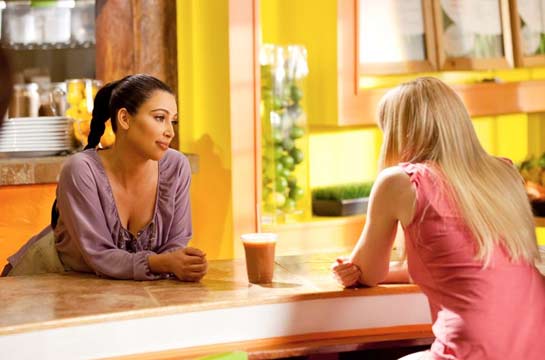 Kim Kardashian is everywhere these days — but get ready for even more Kim K. She's got a huge guest spot on the Lifetime series 'Drop Dead Diva' coming up! Kim's getting into acting now, instead of just reality TV, and this is a great opportunity for her to shine. Could this be a whole new career for her? Possibly!
In season four of 'Drop Dead Diva,' Kim Kardashian stars as relationship guru Nikki LePree. A new promo featuring Kim was just released, and she actually seems to be doing a great job. It's ironic, of course, that the now-divorced Kim is portraying a "love doctor," but keep in mind that she's acting. Maybe the role is therapeutic for her.
In the Kim Kardashian 'Drop Dead Diva' clip, Kim (as Nikki) offers a little relationship advice to Stacy, a model who is still in love with an ex-boyfriend. Stacy (April Bowlby) is really stressed out, worrying that her ex might be moving on. She goes to Nikki because she's known as an expert, a "Dr. Phil, but without the mustache." Enter Kim: She lets Stacy know in no uncertain terms that she's got to make some "bold moves" to get her ex back!
Will Kim Kardashian's stint on the Lifetime show lead to a more permanent role? 'Drop Dead Diva' creator Josh Berman told Us Weekly that he was "blown away" by Kim's "smarts, sense of humor and passion." If Kim really does well on the series (she's only set to appear in three episodes), who knows? She could wind up with a great, steady acting gig!