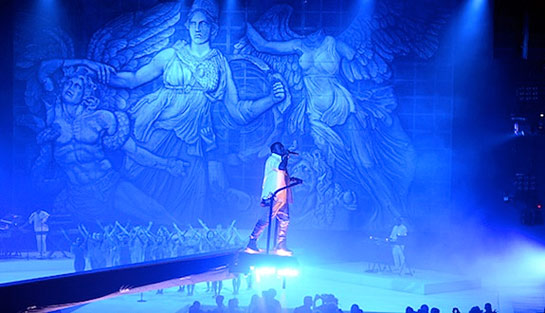 Kim Kardashian had a great weekend, by all accounts. She spent time with her new man, Kanye West, and she even got to watch him perform before a sold-out crowd in Atlantic City, New Jersey. Yes, Kim is living the dream.
Kim K. and Kanye just got back from Paris, where they were front and center during the city's famed Fashion Week. Now, they're back in the U.S., and on Friday night, Ye brought the house down at a solo show at the Revel Resort in Atlantic City. Kim was hanging out all night in the VIP section with one of her besties, Jonathan Cheban, and she seemed to be having a great time!
During the concert, Kanye West sang "Way Too Cold" — a song that includes the now-infamous line, "I admit I fell in love with Kim." Yes, this is the song that seemed to confirm that Kanye West was head-over-heels for Ms. Kardashian, even before they began officially dating. Yeezy apparently decided to sing/rap directly to Kim during the show, and she no doubt loved every second of it.
Does this mean that Kim Kardashian will be in the audience for any and all future Kanye West concerts? You bet it does! What woman wouldn't love to be serenaded by her man, especially when he's a mega-superstar like Kanye?